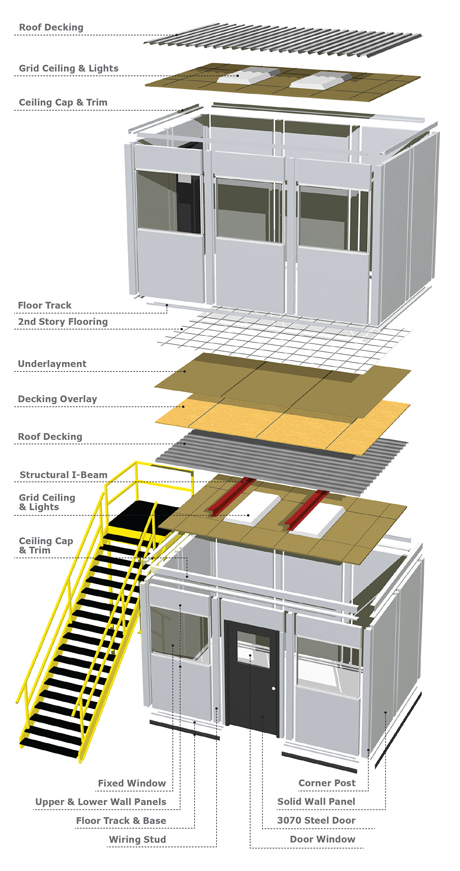 HEATING & AIR  •  A self-contained HVAC wall unit which plugs into an adjacent dedicated outlet is used in most applications. For larger buildings, we can easily provide the extra plenum space for central air ductwork.
FLOORING  •  Two story structures are supplied with vinyl tile as the standard finished flooring for the upper level. Carpet or other flooring may be used. Lower story flooring is not an integral part of the modular structures. Flooring options are available and can be laid after building installation.
STAIRS & RAILINGS  •  Accessories such as Prefabricated Stair Systems, Ladders, Handrails, and Gates are available. Engineered drawings and specifications will be supplied for approval.
ELECTRICAL  •  Electrical components are mounted in the Building System during installation. Standard circuit breaker panels consist of 125A panels with 70A main breakers, and may be upgraded as needed. Single pole and 3-way switches as well as duplex and other outlets are provided in a standard layout. Individual breakers are 15A, and quantity of breakers are sized depending on the electrical needs of the building. Electrical wiring, conduit, communication cables, and light bulbs are to be provided by a electrician or technician on site.
InPlant offers a modular wiring option that simply snaps together, linking all the pre-wired lights and outlets back to the junction box near the load center.
InPlant's structural Building Systems are designed with metals appropriate for environment and capacity requirements – using either 20 or 16 gauge painted steel, or satin anodized aluminum extrusions.
The BUILDING SYSTEM consist of Wiring Studs, Corner Posts, Wall Starters, Ceiling Cap and Floor Track with Vinyl Base Molding.
Load-bearing Support & Wiring Studs  •  The supporting Wiring Studs are located at each Wall Panel junction – every 4 foot or less. See InPlant's Building System options, and the different features of the lightweight and load-bearing options. In addition to structural support, the Wiring Studs act as wiring raceways with removable cover plates which allow easy access for electrical conduit and communications cables.
Corner Posts  •  InPlant Corner Posts incorporate the expandable and non-progressive features of the InPlant Building System. The Corner Posts are made of extruded aluminum that is anodized or painted to match your Wall Panel selection or custom paint color.
Wall Starters  •  For single Wall Partitions, and 2 or 3 wall configurations, InPlant Wall Starters are anchored in existing walls and securely set the leading Wall Panel.
Ceiling Cap & Trim  •  The Ceiling Cap with a metal angle is seen on the exterior, as it conceals the roof deck (20ga steel, or aluminum option).
Floor Track & Base  •  The Floor Track is anchored to the existing floor (24ga steel, or aluminum option). Vinyl Base Molding conceals the Floor Track along the interior and exterior of every Wall Panel and extends around the outside corners.
NOISE CONTROL & SAFETY WALL PANELS • InPlant offers a variety of non-combustible and insulated Wall Panels, engineered to meet national building codes and OSHA safety requirements.
Choose the appropriate WALL PANELS for your application in either 1¾˝ or 3˝ thickness, and in standard 8´ to 26´ height which can extend taller. See Wall Panel selections.
Door Options  •  InPlant's single or double steel swing doors are pre-hung and made of steel shell with an insulated core (Standard 3×7´ includes hinges, sweep & key-in-knob locket. Lever locks & panic exit hardware available). Custom sizes are available, as well as high-speed or manual roll-up doors, bump doors, sliding or strip doors. InPlant's modular design allows for many types of doors and frame openings that can accommodate conveyors, turn-tables, and many other loading and unloading components.
Fixed or Functional Windows  •  InPlant window units are made of ¼˝  thick tempered glass pre-installed in anodized aluminum frames, and span the full width of the panel and may extend various heights for aesthetics or viewing purposes (standard height 41˝). Alternate window materials are available such as tinted, wire glass, laminated, insulated, acrylic, polycarbonate, and also safety glazing for welding and laser enclosures. For functionality you may choose sliding windows.
LOAD-BEARING WIDE SPANS & ROOF STORAGE • InPlant's Modular Building Systems are known for their strength and wide spans up to 40´ without center support columns in non-load-bearing applications. Or, you man gain rooftop storage or production space with the load-bearing systems that are reinforced with recessed I-beams on 48˝ centers, giving a load capacity up to 125 lb per square foot.
Decking Options  •  The strong corrugated steel Roof Decking (22ga B-deck) is covered with various overlay materials including OSB, plywood, tread plate and more.
Acoustical Ceiling & Lighting Fixtures  •  Steel decking provides strength to support the 2×4 grid ceiling with recessed lighting at various heights. The standard T8 Lighting Fixtures have an acrylic lens cover. And, specialized lighting may be easily incorporated into your InPlant Modular Building.