InPlant Wall Partitions are either 1¾˝ or 3˝ thick, depending on your Building System selection. They consist of an inner core and outer layer, composed of materials to control your environment. The core options are expanded polystyrene, or rock wool sound insulation for more sound control.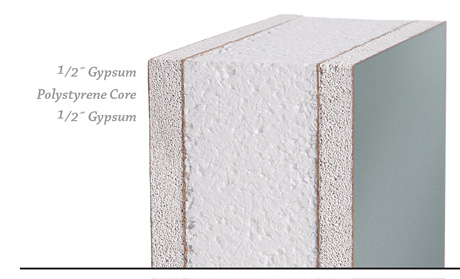 Painted Gypsum Wall Panels
. . . *NC, 3˝ & 1¾˝
Our Gypsum Wall Panels have excellent noise control and insulation qualities, and are non-combustible with a class 1 fire rating. Also, if paired with the Steel Building System, both will be painted to match with our standard paints or your custom paint selection.
Advantages: The Painted Gypsum Panel is the most popular choice because it is easy to repair and can be painted with any custom color at the factory, just like residential dry wall. Recommended for modular office walls as temporary walls or long-term use in modular building or modular partitions.
Custom Paint Color or Standard Neutral Colors: White, Gray, Beige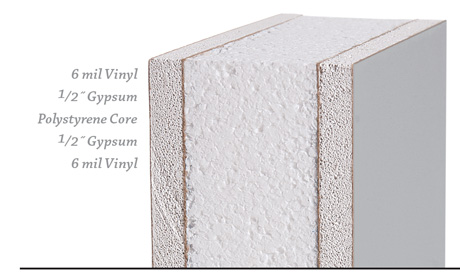 Vinyl Faced Gypsum Wall Panels
. . . *NC, 3˝ & 1¾˝
Featuring an additional 6 mil vinyl covering, your Gypsum Wall Panel provides more noise control with non-combustible qualities. Selecting a vinyl covering adds a durable and cleanable surface.
Standard Neutral Colors: White, Gray, Beige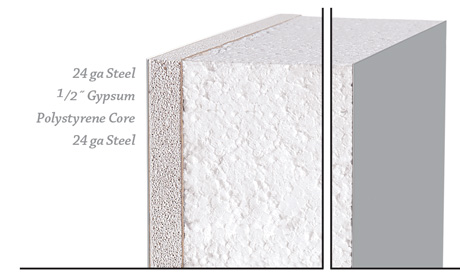 Steel Faced Wall Panels
. . . *NC, 3˝ & 1¾˝
InPlant's durable steel surface option provides safety when enclosing hazardous equipment. We laminate 24 gauge galvanealed sheet steel either directly to the foam core material, or to the standard Gypsum Wall Panel for additional sound attenuation. For the most noise control, steel is laminated over our Soundstop Wall Panel core. Aluminum Faced Wall Panels are available and core upgrades to Aluminum Honeycomb Panels if required.
Steel Faced Wall Panels are painted the color of your choice.
Custom Paint Color or Standard Neutral Colors: White, Gray, Beige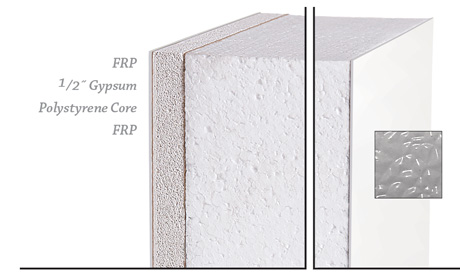 Fiberglass Reinforced Plastic (FRP) Faced Wall Panels
. . . *NC, 3˝ & 1¾˝
FRP Faced Wall Panels are our low maintenance solution. FRP can be laminated over gypsum or directly to the foam core. This water-resistant material is mainly used as a moisture barrier in cleanrooms, labs, or restrooms. It's an excellent choice to handle any tough environment. FRP Panels are required for various cleanroom classifications and environmental enclosures.
FRP has an embossed texture that comes in three neutral colors, or in a smooth white surface.
Standard Neutral Colors: White, Gray, Beige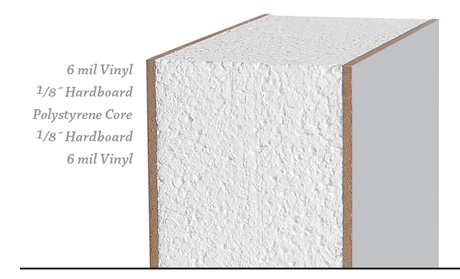 Hardboard Wall Panels
. . . 3˝ & 1¾˝
Our most economical solution. Hardboard clad in 6 mil vinyl is available in both 1¾˝ and 3˝ Modular Building Systems.
Colors: White, Gray, Beige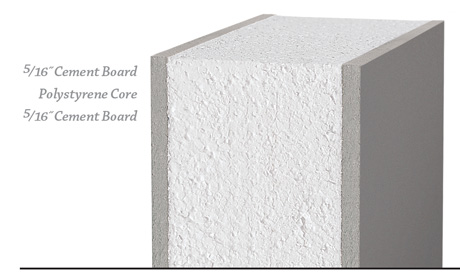 Cement Board Wall Panels
 . . . 3˝
For outdoor buildings, InPlant created a panel using cement board that is extremely durable and weather resistant. The Cement Board Wall Panel is paired with our 3˝ Anodized Aluminum Building System to handle sun exposure, varying temperatures and driving rain. Exterior cement board is laminated directly to an insulating foam core and painted.
Pre-Assembled Buildings are designed up to 8 feet wide by 20 feet long for transportation, or can be built larger if required.
Recommended for InPlant's exterior building system on any guard shack and security booths, smoking shelters, a ticket booth or any other pre-assembled portable room.
Custom Paint Color or Standard Neutral Colors: White, Gray, Beige
*NC Construction • The Noise Controlling and Non-Combustible Wall Panels with ½˝ gypsum layers contains or blocks sound.
___
InPlant Wall Panel System options:
DOORS & FRAMED OPENINGS may be designed to fit your production requirements.
WINDOWS come pre-framed in standard or custom sizes.
Soundstop Wall Panels
 . . . *NC, 3˝
The Soundstop Modular Office Units provide the utmost sound control. Using a more robust gypsum, we've encapsulated an interior cavity filled with rock wool sound insulation. We also insulate the Wiring Studs with rock wool, offer dual pane insulated windows, and doors are insulated and sealed to complete the sound barrier.
Recommended Soundstop Wall Panel surfaces include painted 24 gauge steel, or standard neutral colored vinyls, or FRP.
Custom Wall Panel Surface Options
 . . . 3˝ & 1¾˝
We can easily laminate panels with any custom vinyl, hardboard, slatwall for retail displays, PVC, dry erase board, cork board, or just about anything else your application requires.
Security Construction
We offer bullet and blast resistant materials, along with the ability to fully integrate with security cameras, access control doors and more.