InPlant Modular Building Systems
Advantages: A STEEL modular building system is more economical over aluminum construction, and can be painted in standard neutral tones or matched to the custom colors of your Wall Panels. The 3˝ Steel Wiring Studs have accessible and concealed electrical wiring tracks on both the interior and exterior of each post, with friction fit cover plates on both sides for access to wiring.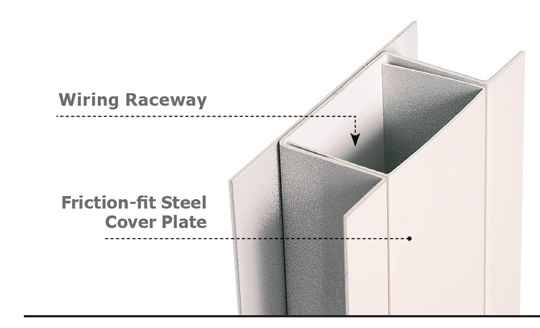 VERSATILE STEEL SYSTEM

. . . 1.75SP

with 1¾˝ 16 Gauge Steel Wiring Studs
This economical option is constructed with 16 gauge galvanealed steel. The 1¾˝ Wiring Studs have load-bearing strength to accommodate a reasonably sized second story, or the sturdy rooftop can be used for storage up to 125 lb per square foot.
___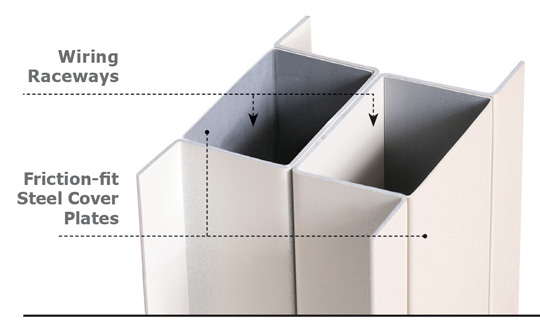 STANDARD STEEL SYSTEM
. . . 3SP-20
with 3˝ 20 Gauge Steel Wiring Studs
For single-story applications, this 3˝ 20 gauge steel, non-load-bearing system, gives you the full benefit of using InPlant's deeper 3˝ Wall Panels which allows you the option of using the best Noise Controlling or sound insulation Wall Panels. This system is ideal for interior Wall Partitions, In-Plant Offices or Equipment Enclosures.
HEAVY-DUTY STEEL SYSTEM
. . . 3SP-16
with 3˝ 16 Gauge Steel Wiring Studs
The Heavy-Duty Steel Building System is InPlant's strongest load-bearing system and uses a 3˝ 16 gauge steel Wiring Stud. It carries the heaviest load and is used in our larger two-story prefabricated buildings. Or, it is capable of providing the widest, column-free room span – up to 40 feet when used in non-load bearing applications. Also it is used for Demising Walls – large Partitions in plant or warehouses that divide space for different types of processing or enclose operations.
InPlant's Steel Building System includes:
  Steel Wiring Studs • Friction-fit Steel Cover Plates
  Corner Posts • Wall Starters • Ceiling Cap & Trim
  Floor Track • Black Vinyl Base Molding
_
Standard Neutral Finish Options:
Painted White, Gray, Beige to match Vinyl Coverings, or FRP Wall Panels
_
Custom Steel Finish Option:
Painted to match Wall Panel custom paint selection
Advantages: An ALUMINUM modular building system is a maintenance-free and moisture resistant choice. It offers a sleek look in a controlled environmental rooms with snap-in cover plates. It's durable with high thermal values for outdoors. An excellent system for FDA regulated food processing plants, cleanroom laboratories, and temperature monitored production rooms.
LIGHT-WEIGHT ALUMINUM SYSTEM
. . . 1.75AP
with 1¾˝ Anodized Aluminum Wiring Studs
The Light-Weight Aluminum System is an economical and eco-friendly selection for environmentally controlled modular rooms. The 1¾˝ Aluminum Wiring Stud is non-load bearing, and suited for single-story, wash-down applications, and sensitive Equipment Enclosures that do not require high thermal values.
___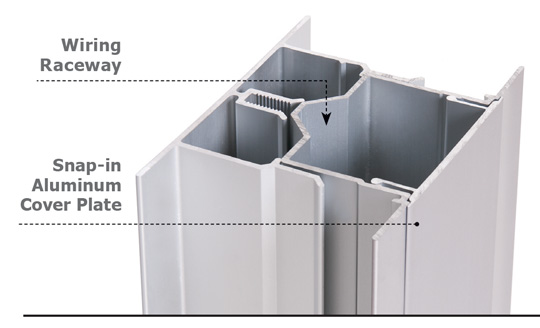 ALL-PURPOSE ALUMINUM SYSTEM
. . . 3AP
with 3˝ Anodized Aluminum Wiring Studs
This sturdy All-Purpose Aluminum System offers the most diverse building usage – with the load-bearing strength of 3˝ Aluminum Wiring Studs to accommodate a second floor or roof storage, and hold 3˝ Wall Panels that provide a wider range of thermal values.
This 3˝ sturdy weather-resistant aluminum is featured in our Pre-Assembled Guard Shacks and other exterior Booth applications.
InPlant's Aluminum Building System includes:
  Wiring Studs • Snap-in Aluminum Cover Plates
  Corner Posts • Wall Starters • Ceiling Cap & Trim
  Floor Track • Black Vinyl Base Molding
_
Standard Aluminum Finish Options:
Satin Anodized or Painted